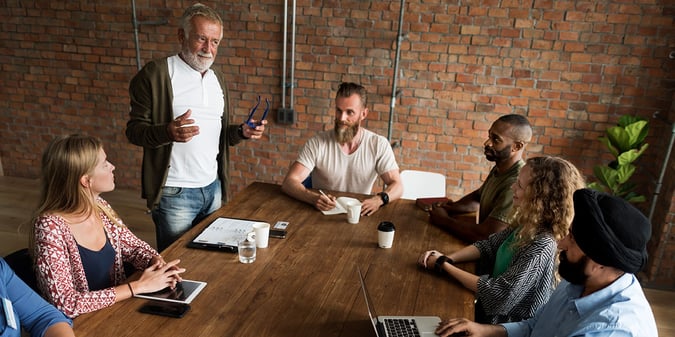 Information professionals have a reputation for knowing a little about everything. As embedded special librarians and archivists, it's essential that we remain relevant. One way to do so is to continuously hone your knowledge through continuing education. Another way to remain "in the know" is to share what you learn—within the organization and your professional specialty.
Continuing Education is an everyday occurrence
Whether you've been working for the organization for a day, a month, or years, continuing education is a key part of your job. It's especially important as an embedded librarian or archivist. Working within a team of specialists, it is imperative you keep yourself 'in the know', intellectually sharp, and at the top of your field, knowledge-wise. It's what keeps information professionals—especially embedded librarians—relevant in this digital age and as active participants in the project team.
Think strategically about how materials and emails that come across your desk and in front of your eyes daily are one facet of professional development. Consider the scheduled time you take to deal with email as a way to nurture yourself and to feed your interests without boring yourself or your colleagues. Make continuing education fun and challenging, NOT boring or a dreaded obligation.
Here are some tips and techniques for keeping on top of the vast quantities of information streaming across your desk, into your email box, and into your subject specialty.
Practice active reading, learning, and most importantly, teaching
Self-education is an ongoing job, not something to do because you have down time. Here are some suggestions to make learning a part of your day.
Build active reading and research into your schedule. There's never a perfect time, so schedule it—whether it's every Friday or Wednesday, the last or first half hour of every day, or part of your staff meeting. Put it on your calendar and stick to it.
Don't schedule your learning time during lunch because you need a break from your computer, your phone, and your desk. Lunch is a great time to catch up with colleagues at work or in town.
Build learning into your calendar. All you need is an hour or two a week to stay at the top of your field. If you are not doing that, then how can you put yourself forward as the best person to be part of a project or team?
Incorporating education into your schedule is something you do regularly. But beware, just because the materials are on your computer or desk does not mean you are learning.
Active reading and learning means reading for knowledge, to share and disseminate what you understand and to ask questions when you don't. Take an active role in terms of reading and learning, whether you skim blog posts and article titles, read the letters to the editor, the book jacket flaps or read discovery blurbs, or dive into the articles themselves. Jot down a few key terms and concepts you gleaned from each article or journal on cards and post it notes. Keep a journal for yourself about what you learned each week. Better yet, write a blog post to share with colleagues and project members.
Read professional literature in your organization's subject area and in related fields. In your subject discipline, scan journals and the web for new discoveries, articles, techniques, new and altered products, and news about the competition. Even if you don't read the entire article, read actively by taking notes on the salient points, essential aspects and discoveries in the professional literature that intersect your organization's mission and product development, or are tangential to the subspecialty.
Read articles in librarianship, archives, records management, and museums. Don't forget articles about information retrieval, organizational skills, and your subject discipline.
Read materials that are tangential to your fields of expertise. Ask questions. Focus on the big picture, hone in on the minutiae when necessary. Keep yourself mentally alive by being an active reader and questioner.
Read the newspaper, editorials, and opinion pieces to be on top of what's happening. If you work in a business, stay current on what's happening in government agencies. Explore how the actions of government affect your organization, products, and distribution channels. What are the side effects of proposed bills and government initiatives on the marketability of your new and existing products?
Take advantage of social media by spending a few minutes reading some blogs, watching a YouTube video of favorite Ted Talks www.ted.com/ or Big Think presentations bigthink.com/. Most professional development organizations have webinars, workshops, and seminars you can listen to and participate in, subscribe and attend when possible.
Take classes and attend lectures and webinars in the field you work in, in the profession, and in your subspecialty. For example, if your company is a ceramics company, go to conferences, network, read the professional literature, and attend workshops and lectures on new discoveries and publications related to ceramics.
Sharing knowledge with information center staff enhances your visibility and relevance
Share what you learn with your information center colleagues, with your project group, within the organization, and even within your network. That's what information professionals do with new knowledge and skills. Here are some ways to disseminate what you've learned each week or month.
Write very short blog posts to share with project team members
Teach your fellow information center staff and project team members by hosting a brown bag lunch
Teach information professionals in your subject specialty at local, regional, and national conferences like SLA
Attend conferences as a presenter and active participant. And don't forget to network while you're there; it's an essential aspect of learning.
Teaching and writing are part of self-education
Now that you've learned something new, share it with your project team, information center colleagues, and across the organization. Participate or establish opportunities to teach what you've learned. The sessions don't have to be long. Five minutes is a great length for today's busy work environment. Short programs are perfect 'micro-learning' or 'micro-training' opportunities where very specific information is imparted in intense training sessions. For more detailed or complicated topics, schedule brown bag lunches, talks, and even seminars. Invite members from across the organization to participate.
Teaching isn't your specialty? Write about what you learned. Blogs are great ways to share formally or informally. You don't have to write much. Just put together two or three ideas and a few answers based on what you're reading while including links and images. Share the blog throughout your organization.
Use social media outlets to share what you've learned. Put together a quick video; even a minute or two is fine. Provide some images, talk about the topic, and provide a link to the information. You could even pair the video with your blog posts to liven up your colleagues' weekly reading.
Summing it up
Embedded librarians are consummate consumers of continuing education; sharing their subject expertise with other members of the library and information center, honing their knowledge within their organization, and disseminating relevant information within their subject specialty. Schedule daily or weekly active reading and learning sessions to stay on top of the field and hone your passion for information retrieval and dissemination.
The next blog post will talk about how to work with your personality type, introvert or extravert; and how to learn to be a pseudo-extravert whether working with colleagues, presenting information within and outside the organization, or networking.