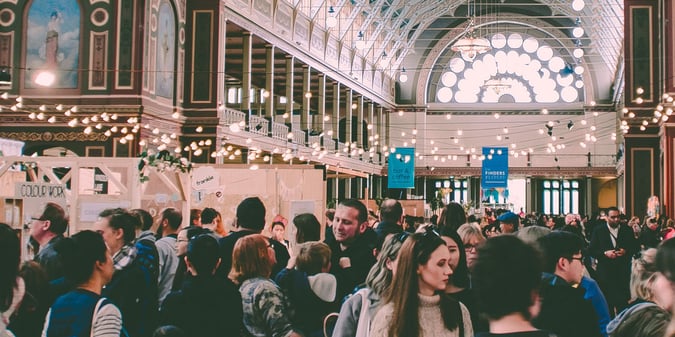 Attending museum conferences is an important facet of healthy museum operations. Museum professionals need to attend conferences in order to stay abreast of current and forecasted museum issues, learn and gather fresh ideas to bring back to the museum, and network with colleagues to build critical inter-museum partnerships.
There are many conference opportunities to choose from, ranging from regional to international, as well as the one-time symposiums and workshops that may spring up throughout the year. The issue isn't choosing which conferences the staff want to attend; instead, it's finding the money to support museum staff attending any conference opportunity. Museum operating budgets and money to support staff development are critical issues that can't be solved in a blog post, but these tips to conferencing on a museum budget will help alleviate the often $1000+ cost for conference attendance.
1. Does the conference offer a small-size museum, nonprofit, part-time, retired, volunteer, or hardship discount?
Some of the larger, national conferences will offer a tiered approach to conference attendance cost. (This is something I hope we see more of in order to provide equitable access to conferences). If it's not publicized on the registration page, it's worth calling the conference host to see what the options are for receiving a discount on the entry fee. There's usually an early-bird discount—so pay attention to when deadlines are so you can at least score that discount.
2. Does the conference offer a scholarship?
Many conferences (large and small) offer scholarships to help alleviate conference costs. The scholarships may have a particular population they wish to support, such as a region, staff type, or hardship qualifier. These scholarships are posted near the same time as the registration opening, and are typically due a month or two before the conference date. If you can't find scholarship opportunities listed, contact the hosting agency to inquire. If scholarships aren't offered and it's a national membership agency, recommend to the group that they consider offering scholarships so all members may be able to attend.
3. Check local hotel rates before choosing to stay at the conference hotel.
Almost every conference will have a recommended or host hotel at a reduced rate for conference goers. Reduced rates are great and absolutely make a difference, but the conference is usually at a very large and very expensive hotel. So, a reduced rate may still be higher than regular rates at nearby options. Check out neighboring hotel rates within a half-mile of the hotel to see what's available. Typically, you can save an additional $40+ off the conference hotel's conference rate. While it can be inconvenient not to stay at the conference hotel, it can also be a lovely break from the conference—allowing you to recharge for the next day. Similarly, search for Air BNBs in the area as they can be cheaper than hotels and offer kitchen facilities to help save on dining out costs.
4. Staying with friends and other options
If you have friends in town consider staying with them. Or, if you will have friends traveling to the same conference, perhaps sharing a room with 2 Queen beds is an option.
5. Setup a Google Flights Tracker for cheap air fare
Air fare can be just as expensive as the hotel stay depending on where you're headed and how hard it is to get there. In order to sleuth out the best air fare, set up a Google Flights - Track Flights and Prices alert at least 3 months prior to the conference using the designated arrival airport. This feature allows you to passively find the best air fare with minimal time or opportunity cost to you.
6. Review the conference schedule and identify food opportunities
This may seem a bit desperate, but conference food is usually provided at least once a day and always during vendor sessions. Familiarize yourself with the schedule and identify free food opportunities in order to help keep your dining costs low.
7. Taxis, Shuttles, Rideshares, Etc.
Taxis will almost always be the most expensive way to get from the airport to the conference. If your hotel doesn't offer a free shuttle, budget shuttles are available for a flat rate and can be scheduled ahead of time. Rideshares (such as Uber and Lyft) can also be cheaper—and if you're traveling with a friend you can split the cost.
8. Will there be a free, streamed version?
This is more commonly offered with portions of larger conferences and with subject-specific symposiums. Many are realizing how expensive it can be to attend multiple conferences a year and that the people who most need to attend usually can't afford to. I'm seeing more and more options for free or budget-friendly streaming of conference and symposium content. While it's not the same as being there in person, it's better than not being there at all.
Those are my top eight tips for conferencing on a museum budget. If you have some tips to share, I'd love to hear them! Please leave them in the comments section.