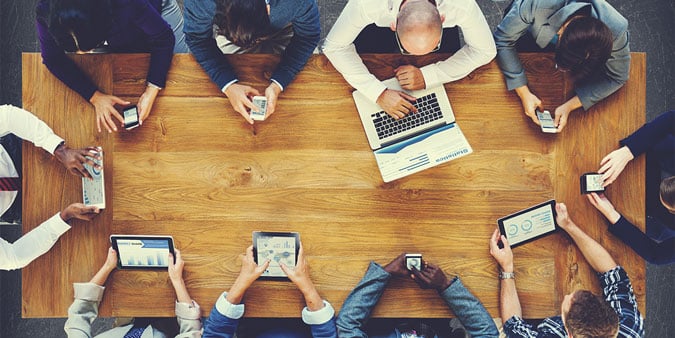 In a recent article, Knowledge Management in the Age of Social Media, author Robin Singh suggests that social media presents serious challenges to the traditional "knowledge base," and asks whether it can transform knowledge management. Please read on for some additional thoughts on social knowledge exchange as a supplement to classic KM.
When I began my career as an information specialist, I was lucky enough to work for a consulting firm with the "deep pockets" required to access any online resources necessary, or even potentially helpful. Still, it was critical to supplement the research process with knowledge elicited from experts, through conversation. My colleagues and I spent at least 50% of our time on the phone, chatting with staff at the Department of Commerce, magazine publishers, journalists, bankers, politicians, et al. Without this, our knowledge was incomplete.
Is KM anti-social?
Author Singh writes, "The form… of the data found on social media and on the knowledge base is completely different. The only social aspect of data in knowledge management systems is found during the approval process when an appointed employee reviews the credibility of the data source and its value for the organization before publishing it via the knowledge base software." The implication is that something is missing—and indeed, if the knowledge capture process stops here, it is.
Everything old is new again
Per Singh, "…social interaction …removes all boundaries …content becomes a key part of social interaction, and it can shift the meaning as the discussion progresses…" I would argue that this "social interaction" is the technology-enabled logical progression of research interviewing, which was such an integral part of the search for knowledge before Facebook, Twitter, and other social media channels existed or were widely used. Therefore, it doesn't challenge traditional KM; instead, it broadens and accelerates the critical supplement to structured database content that was historically derived from phone calls or face-to-face information exchange.
Ah-ha!
The question of how to use the power of the unstructured information captured via social media in combination with a knowledge base is the really interesting issue. Combining the two delivers "content in context," and is necessary for that ah-ha moment when data, information and insights make the magic mixture that results in knowledge.
Singh suggests that the solution is enterprise social computing via APIs that associate and categorize unstructured data served up in social knowledge exchange channels, and allow its integration with the knowledge base. Any KM system that delivers this capability or gets you closer to it, even perhaps by integrating social results with database results in a search hitlist, is powerful indeed.
You're probably still going to need to actually speak with people, though. There's no real replacement for human interaction as a way to build true understanding and knowledge.