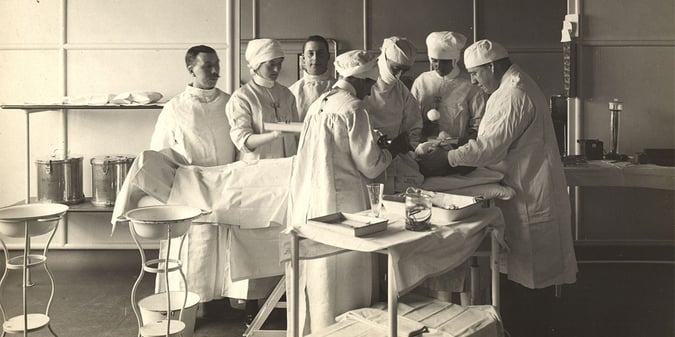 The American College of Surgeons (ACS) is a scientific and educational association of surgeons that was founded in 1913 to improve the quality of care for the surgical patient by setting high standards for surgical education and practice. The College Archives, located in the headquarters building in Chicago, collects and preserves inactive College records of enduring value and makes them available for research to its members and to the general public.
The processed and cataloged records contain roughly 400 linear feet of material—chiefly paper records—along with photographs, motion pictures, sound recordings, and College publications.
The Archives formerly maintained its collection descriptions and accession records in several in-house databases used only by Archives staff. Recently, the director of the ACS charged the Archives with providing easy online access to the descriptions, enriched by linked digital objects. After taking a close look at all available archival content management systems, they chose Eloquent Archives as the one most closely matching their needs. The new Archives Catalog was ready in time for the annual Clinical Congress of Surgeons.
Researchers are enthusiastic about the ability to access not only collection descriptions, but also many of the actual photos, videos, publications, and sound recordings described in the Catalog. Planned enhancements to the ACS Archives Catalog include:
improved subject access
exposing the content to Internet search engines such as Google, thereby expanding the user base
ongoing addition of digital objects for an enriched user experience
You can explore the rich holdings of the ACS Archives by searching their database.