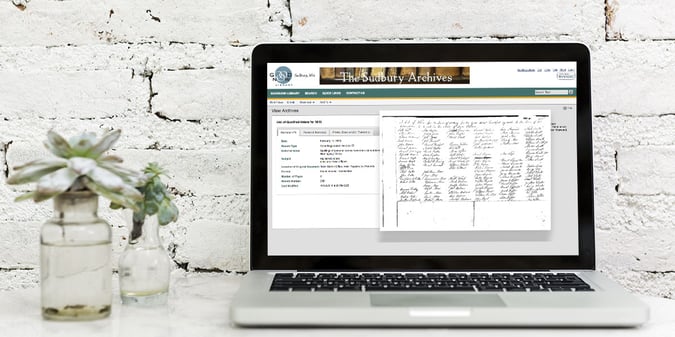 The Local History and Genealogy Room, known as The Sudbury Archives, is located within the Goodnow Library in Sudbury, Massachusetts. Sudbury was one of the very first inland towns in Massachusetts, and there are many families who can trace themselves, through town records, back to the early 1600s. The library's historical collections are available to the general public for research involving local, genealogical and/or historical issues.
Per the Goodnow Library, "The intent of the Local History Collection is to preserve, collect, describe, exhibit, and make publicly accessible materials that document the history of Sudbury and its inhabitants."
In support of that mission and strategy, using Inmagic Presto the Library offers an online, searchable database of approximately 15,000 town records dating from 1639 – 1850. It includes records from the Town Clerk's Office, the Goodnow Library, Longfellow's Wayside Inn (the oldest running hostelry in the United States), the Sudbury Historical Society, and the Wayland Historical Society. Each record is searchable by title, date, subject, personal name, location of original, document category and record number, and many include editorial or historical annotations. Many records also contain scanned images or transcriptions of the original documents. Per Ms. Karen Tobin, the Goodnow Library's Assistant Library Director and Head of Reference, the digitization project began "incredibly early" and was the first of its kind in Massachusetts.
We invite you to learn more about the many ways The Sudbury Archives uses Inmagic Presto to bring the town's history to life. Read their full success story here.