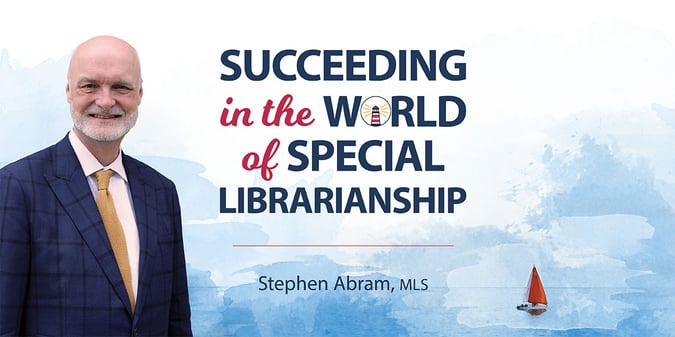 I'm pleased to announce that my new book, Succeeding in the World of Special Librarianship, is now available from Lucidea Press. You may be aware that I am a regular contributor to Lucidea's "Think Clearly" blog, so when they asked me to write their imprint's next book, it felt like a great opportunity to share my perspectives in a more expansive form.
The book is intended as a guide for special librarians committed to being proactive about their careers. I take a pragmatic approach to such topics as the importance of relationships, putting technology in its place, developing and planning your strategy, the fundamentals of marketing and selling, managing internal communication for impact and value, and the secrets of client engagement. Below is the list of chapters:
Introduction—Framework and Philosophy
Relationships: The Foundation of Everything
Technology: Putting it in its Place
Strategy: Knowing Where You Want to Be
Execution: Just Do It!
Marketing and Selling Are Not Dirty Words
Innovation and Managing Risk
Managing Internal Communication for Impact and Value
Describing Yourself—NOT the Library
Client Engagement in Special Libraries
Conclusion and Inspiration
By the way, I will be at this year's SLA Conference in Baltimore, and in addition to moderating Lucidea's Hot Topics Panel (Don't Just be Integrated; Be Integral) on Monday, June 11th, I'll be available—along with fellow Lucidea book author Stan Garfield—for chats and book signing at their booth.
I hope you will find Succeeding in the World of Special Librarianship compelling and relevant, with useful advice and insights drawn from my career as a librarian and library consultant. Both Kindle and print versions are available for purchase at Amazon.com, but for the moment you can get a free PDF copy in advance, courtesy of Lucidea.