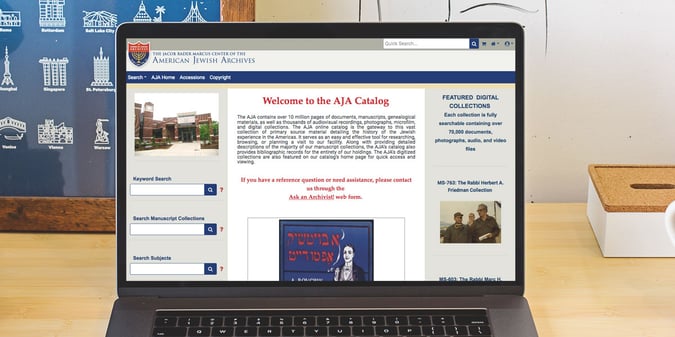 The Jacob Rader Marcus Center of the American Jewish Archives (AJA) is located on the Cincinnati campus of the Hebrew Union College-Jewish Institute of Religion. It was established in 1947 by renowned historian Dr. Jacob Rader Marcus to collect, preserve, and make available for research, materials on the history of Jews and Jewish communities in the Western Hemisphere.
The digitization imperative
Most archives reside under libraries, and many archives are in large university library settings, but part of AJA's uniqueness is that it is self-sufficient and separate from the Hebrew Union Library. Prior to implementing SKCA (Star Knowledge Center for Archives) and Inmagic Presto, the AJA relied on a library automation system to manage their materials, but it didn't address the unique needs of archival collections. For example, they could only have one record for each collection, and couldn't provide detail. They were making it work, via a costly combination of Open Source (with associated consultants) and website contractors, but as digital content became increasingly important, finding a system with digital asset management capabilities combined with solutions to their other traditional archives management requirements— ideally through one commercial product—became imperative.
An ideal combination
They selected SKCA as their collections management system but preferred not to use an archives public access catalog. And, they still wanted a way to ingest a significant number of digital files sitting on a disk drive and make them full-text searchable. The solution? A powerful combination of SKCA, purpose-built with all the essentials of archives collections management, with an Inmagic Presto front end that delivers both an attractive, easy-to-use catalog and broad access to multimedia digital content.
Per Ms. Lisa Frankel, Director of Programs & Administration, "We're using SKCA and Presto to digitize and make accessible even our smaller collections … we used to pay an outside firm, so now we save money digitizing these materials ourselves, and put them into our catalog. With SKCA combined with Presto, you can 'grow your digital repertoire' and be much more efficient. In addition to the cost savings, it probably takes a tenth of the time that it used to."
We invite you to learn more about the many ways the American Jewish Archives uses CuadraSTAR SKCA and Inmagic Presto to achieve their goals. Read their full success story here.