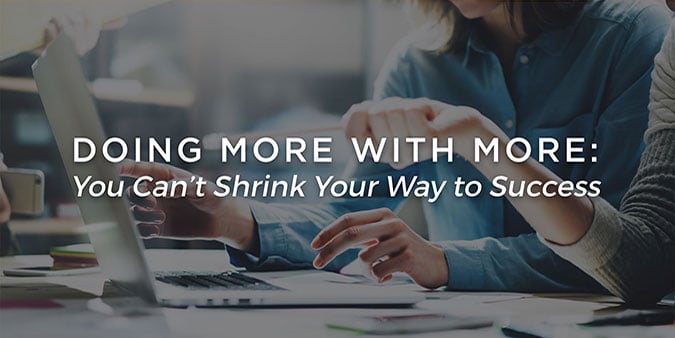 Special librarians achieve sustainability by understanding that evolving end user requirements demand new services, innovative solutions, information discovery on-the-go and the most effective channels for knowledge exchange—even (perhaps especially) in these days of diminishing resources.
Special Librarians are continually being asked to deliver more…
More content
More access
More services
More results


For more reasons…
This imperative to do more exists, even in the face of…
Shrinking staff size
Smaller budgets
Less physical space
Diminishing priority with overworked IT staff
Less influence as valued organizational leaders
But here's what we know: you cannot shrink your way to success. Special Librarians can only do more, with more.

During our SLA Hot Topics session, "Doing More with More: You Can't Shrink Your Way to Success," we focused on the success stories of information professionals who are building their libraries' influence with an orientation towards abundance, not scarcity.
Attendees heard actionable advice from peers who don't shrink their way to success but instead fill needs via more powerful technology tools, more access and discovery options, and by doing what it takes to exert more influence on organizational knowledge exchange.
Our speakers were:
Kevyn Barnes – Webmaster, Center for Transportation Research
Katrina Perez – Resource Management Librarian, Drinker Biddle & Reath
Sara Thomas – Director of Research & Information Services, Miles & Stockbridge
Marcus Liban – Product Manager and Knowledge Management Expert
Following our annual tradition, we've written a whitepaper (now available for download) that presents the compelling information shared during the event, combined with additional valuable insights gained from panelist interviews conducted in preparation for the discussion.
We invite you to download a copy of the white paper from Lucidea's Hot Topics Session, "Doing More with More: You Can't Shrink Your Way to Success."
You can also watch the video when you visit Lucidea.com. Thank you!