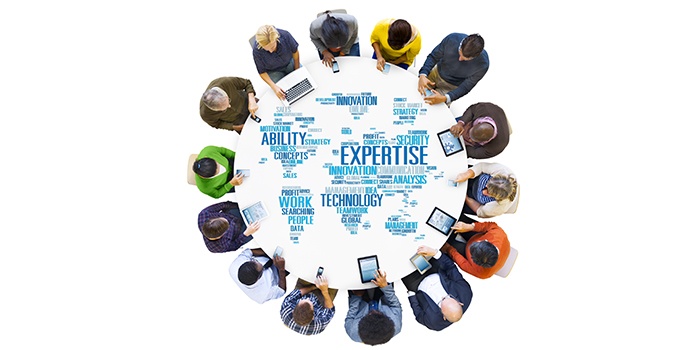 Earlier this year, we presented a "KM Conversation" with well-known enterprise social network expert and consultant Euan Semple. During our session "The New Knowledge Ecosystem: Content and Connection," Lucidea's COO Phil Green engaged Euan in a discussion of how social sharing and the wisdom of the crowd enable meaningful and necessary participation in professional digital networks.
Content meets connection
The question that librarians and knowledge managers must ask themselves now, is "how do I make the transition from managing a physical and digital collection, to powerful, meaningful participation in a social web scenario?" We exist in a professional world which is increasingly decentralized, and where automation is on the rise. "Curator only" mode isn't a sustainable option for information professionals.
Per Euan Semple, moving content around is only part of the job. Connection and conversation are critical components of a knowledge culture. Unfortunately, until recently, social media has been contained within the communications and marketing worlds, and is often still seen as a channel through which you pass content, rather than as a rich source of connected network conversations.
What's your type?
Thriving in a digital world that is much bigger, much more complicated, and much more pervasive requires that you be one of two types of participant:
early adopter – those who drive an enterprise social network from the ground up
fast follower – those who play a pivotal role in implementation of an enterprise social network that is already up and running
Changing roles
It is clear that over the next few decades, lower level white collar jobs, including knowledge worker roles, will be eaten away by intelligent systems—these systems are all assistive, but much of what we now do will be achieved via technology. Current assumptions about our roles and organizations are going to be found wanting in this scenario.
Parallel worlds
Instinct towards new structures is a reaction to the challenge. The advent of enterprise social networks gives us the means to deal with these changes, to get smarter faster, and to work with each other to develop new constructs. Enterprise networks work in parallel with existing worlds; current structure, hierarchies, and processes are still important, but we can enable, enhance and make them visible using the networking capabilities we already experience in our personal lives—bringing the benefits of content, connection and conversation into our professional lives.
Hear more from Euan Semple and Phil Green on this topic when you link to "The New Knowledge Ecosystem: Content and Connection." And if you have suggestions for additional topics in our series of "KM Conversations" with such luminaries as Stephen Abram, Stan Garfield and Euan Semple, please let us know.